BYD is at the forefront of converting an entire city's fleet of buses to plug-in electric vehicles.
On a recent afternoon at a bus stop in the business district of Nanshan in Shenzhen, China, the air was filled with the sound of chirping birds in a nearby park. The street was quiet, with the exception of the occasional diesel truck chugging past—holdouts against a future that glided in with barely a sound: an electric bus.
A woman who'd been browsing on her smartphone while she waited hadn't noticed the bus creeping up to the stop. Not until the doors opened with a beep, beep, beep and a man barking boisterously into his phone stepped out did she spring into action and hop aboard. Passengers scanned in with their smartphones, paying through WeChat, the app developed by Tencent Holdings Ltd., the Chinese social media giant whose flashy 50-story headquarters could be seen from the bus stop.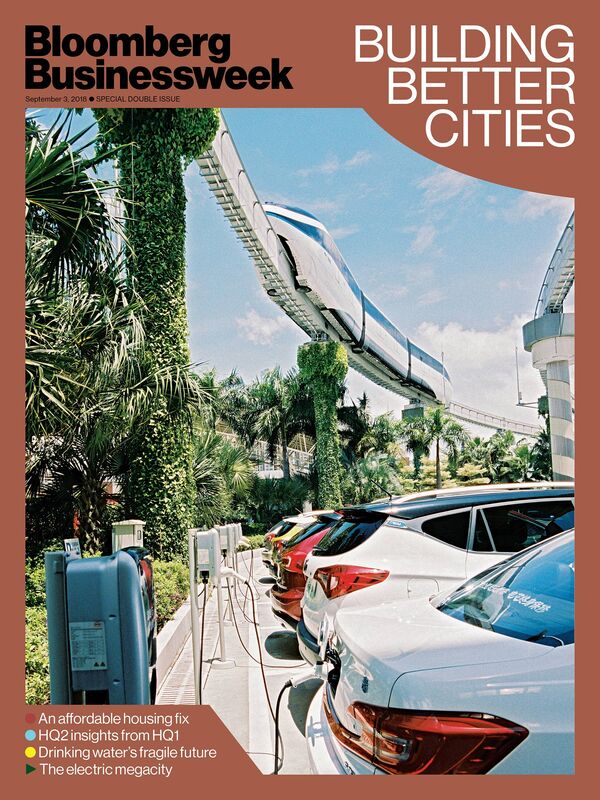 Every megacity can trace its history in increments of rising decibels. For most of them, the turning point was the Industrial Revolution. But in Shenzhen—now packed with more than 20 million people and hundreds of factories turning out high-tech hardware—the quiet age is only four decades in the past. Back then, China's answer to Silicon Valley was still a collection of calm fishing villages just across the river from bustling Hong Kong.
But in 1980, Deng Xiaoping declared Shenzhen to be China's first special economic zone. The unending wail of urban sound descended almost at once: cars, highways, delivery trucks, sirens, buses, factories, power plants, shipping facilities, trains, and innumerable motorbikes. The newborn metropolis swiftly took its place among its global peers in making a never-ending racket.
The master plan created 14 local industrial clusters, distributing the risk of the government's experiment. The first factory workers relied on about 300 fishing and farming villages for basics such as potable water and food. The result is that modern Shenzhen is multicentered, with clusters of walkable space, according to Juan Du, an architecture professor at the University of Hong Kong who studied the urban transformation. The city experimented with infrastructure: highways, bus corridors, and a subway that now has one-third the number of stops as New York's (at one-tenth the age). Bullet trains, ferries, and a new airport connect it to the world.
SOURCE:  Bloomberg LP